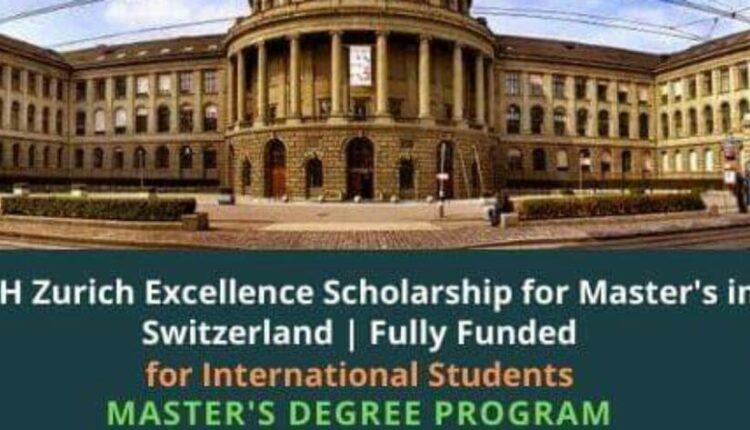 Scholarship in Switzerland fully funded
Scholarship in Switzerland fully funded
Federal Institute of Technology ETH Zurich Scholarships in Switzerland
Excellence Scholarship & Opportunity Programme / ETH-D Scholarship.
ETH Zurich supports outstanding Master's students with two scholarship programs:
The Distinguished Scholarships and Opportunities Program (ESOP) supports students with a scholarship, mentorship, and network from the ETH Foundation.
About the scholarship:
The scholarship covers full study and living costs during the Master's degree course.
The ETH-D scholarship contains a partial stipend plus additional offers by the department (additional aid or scholarship).
There is only one application process for each of the two Master's scholarship programs.
Details of scholarship:
Host country: Switzerland.
Donor: ETH Zurich.
The ETH ZURICH is the best scientific institution in Switzerland.
Funding type: fully funded.
Stage of study: Master's degree.
Available to all students from all countries of the world.
An English language certificate is required.
Application deadline: December 15, 2020.
Available majors:
Engineering Sciences:
Biomedical engineering.
Computer Science.
Material Sciences.
Energy Science and Technology.
Electrical Engineering and Information Technology.
Mechanical engineering.
Nuclear engineering.
Civil Engineering and Architecture:
Civil Engineering.
Environmental engineering.
Integrated Building Systems.
Geomatics.
Natural Sciences and Mathematics:
Chemical and Biological Engineering.
Chemistry.
Physics.
Statistics.
Computational Science and Engineering
Pharmaceutical Sciences
Administration and Social Sciences:
History and Philosophy.
Management, technology and economics.
Educational Sciences.
Mathematics education.
Science, technology and politics.
Natural Sciences:
Applied Geophysics Agricultural sciences.
Atmosphere and climate Food Science geology.
Environmental Sciences Health Sciences and Technology.
Scholarship Features:
There are two types of scholarships:
The Excellence Scholarship / ESOP consists of a grant that covers living and tuition expenses (CHF 12'000 per semester) in addition to a tuition fee waiver.
The ETH-D scholarship consists of a partial stipend for living and tuition expenses (CHF 7'500 per semester) In addition to an exemption from tuition fees.
The department will additionally offer a scholarship of 3,000 Swiss francs per semester or provide assistance (by paying 500-600 Swiss francs per month).
In Zurich, the amount requested covers 21,000 Swiss francs / year for the Immigration Office (in Basel at D-BSSE it covers 24,000 Swiss francs).
The required paperwork:
Fill out the application form.
Statement of grades (point sheets).
CV Motivational speech.
Two letters of recommendation.