Free Online Courses from Amazon
Overview
Amazon is an American multinational technology company focused on e-commerce, cloud computing, digital broadcasting, and artificial intelligence. It has been referred to as "one of the world's most influential economic and cultural forces", and the world's most valuable brand. It is one of the five largest US IT companies, along with Alphabet (Google), Apple, Meta (Facebook), and Microsoft.
Enroll in: Online Courses From Huawei With Free Certificates
Jeff Bezos founded Amazon from the garage of his home in Bellevue, Washington, on July 5, 1994. Initially an online marketplace for books. It has several subsidiaries including Amazon Web Services (cloud computing), Zoox (autonomous vehicles), Kuiper Systems (satellite internet), and Amazon Lab126 (computers R&D). Other affiliates include Ring, Twitch, IMDb, and Whole Foods Market.
Amazon also distributes a variety of downloadable content through its Amazon Prime Video, Amazon Music, Twitch, and Audible modules. It publishes books through its publishing arm, Amazon Publications, film and television content through Amazon Studios, and currently acquires film and television studio Metro-Goldwyn-Mayer. It also produces consumer electronics most notably Kindle e-readers, Echo devices, Fire tablets, and Fire TV.
Enroll In: University of Queensland Australia Online Courses
What We Do
Although our business has evolved over the years, one constant is customers' desire for lower prices, better selection, and convenient services. Today, Amazon shoppers can find what they're looking for online and in person. From delivering fresh produce to their doorstep to creating and distributing movies, music, and more, we are always finding new ways to delight our customers.
Amazon Store
We work every day to earn and keep customers' trust. We do this through convenient services and the thousands of small and medium businesses that add significantly to our product selection.
Devices and Services
From Alexa and Echo, Fire TV, Fire Tablets, and more, customers are using devices and services to make their daily lives easier and more enjoyable.
Enroll in Asian Development Bank Institute E-Learning (Online Courses)
Amazon Web Services
AWS is the world's most comprehensive and broadly adopted cloud platform, offering over 200 fully-featured services from data centers globally.
Delivery and Logistics
Our Operations and award-winning Customer Service teams are at the heart of Amazon's mission to be Earth's most customer-centric company.
Entertainment
We create and provide access to world-class entertainment through Amazon Originals, Prime Video, Audible, Twitch, Amazon Music, and more for customers to enjoy.
Apply for Google Career Certificates (Free courses for the most important areas of the labor market)
Programs available:
AWS Cloud Practitioner Essentials
Introduction to AWS Solutions
AWS Technical Essentials
Machine Learning for Business Challenges
AWS Certified Solutions Architect
Networking & Content Delivery
The Elements of Data Science
Data Analytics Fundamentals
Cloud Essentials

Learn cloud fundamentals and best practices.

Architecting

Learn to design highly available systems.

Machine Learning

Learn to integrate machine learning (ML) and artificial intelligence (AI) into tools and applications.
See this British Council Free Online Courses With Free Certificates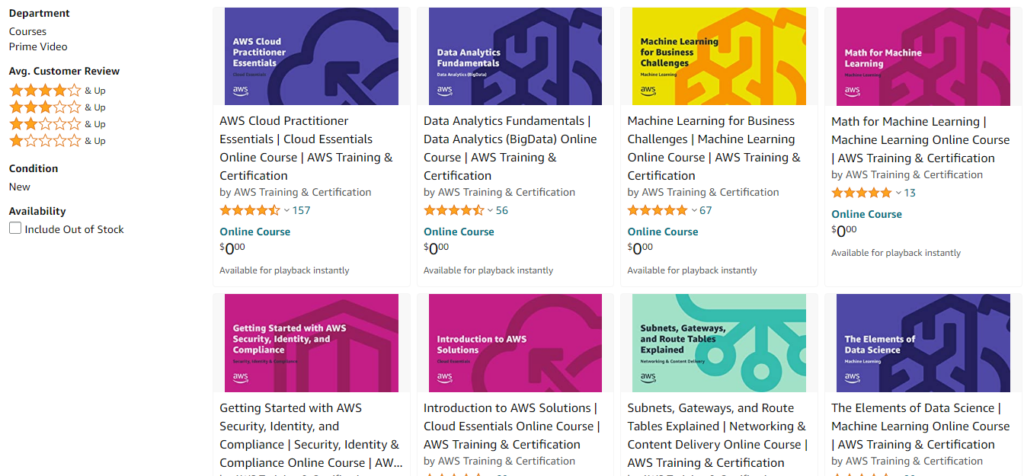 About free online courses from Amazon:
Amazon offers many Amazon Web Services (AWS) online courses for free Amazon.com. The program offers beginner, intermediate, and advanced courses on topics such as cloud computing and technology, crafted by AWS employees who are experts in their field.
Enroll now for The University of Queensland's free online academic English course
Terms and Standards:
Applicants must meet the following eligibility criteria to benefit from Amazon's free online courses:
There are no restrictions on age, nationality.
No academic degree is required.
Anyone can attend the available courses.
Apply for: Free Online Courses From Boston University
Features of free online courses from Amazon:
Free training course.
No registration fee.
Learn from the experts.
You will learn new skills and ideas.
Improving CV and thus increasing job opportunities.
Are Amazon certifications worth IT?
If you're wondering if AWS certifications are worth it (and "worth it" to you means "may help advance your career or earn more money") then yes, AWS certifications are worth it. More than 80% of people identified a higher salary as a direct result of cloud certification, our State of Cloud report found.
Enroll for: Free Online Courses From Hamad Bin Khalifa University