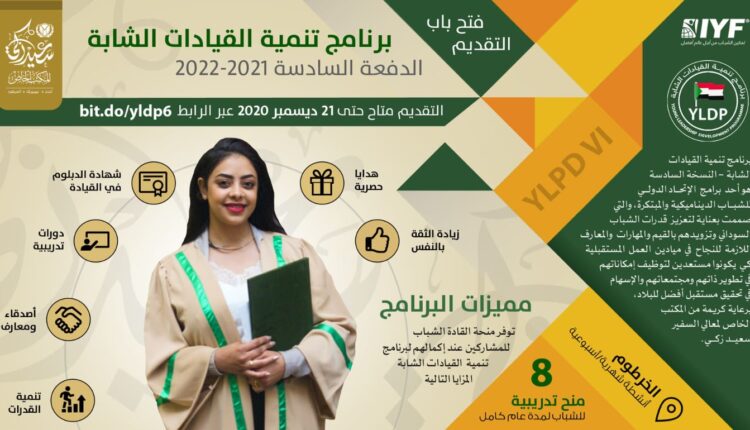 Welcome to the Sudanese Young Leaders Development Program
Welcome to the Young Leaders Development Program
Applications are now open for the sixth edition of the International Youth Federation 2022-2021 for young leaders – and the Diploma in Leadership (DIL) program through the Youth Leadership Development Program in Sudan.
Apply now for one of the exclusive opportunities in the training program and be part of the future leaders.
The axes of the youth leadership development program:
The Young Leadership Development Program is one of the distinctive and unique programs aimed at young leaders in Sudan, which contains various training components aimed at raising awareness and developing the capabilities of the participants in the various program axes such as leadership, experience and innovation, which will be distributed to include the following axes.
Leadership formation and leadership development
The program seeks to give the participating youth self-confidence and the opportunity to go through a leadership experience through a number of various tasks and activities aimed at refining their leadership skills.
With the completion of university education, young people face new challenges in a different environment that they have not experienced before, and he has to find himself in it, which requires awareness and flexibility in dealing with the requirements of a new life to be in harmony with this transformation.
Learning about the market and the work environment
The training courses accompanying the program provide an intense focus on labor market skills such as business communication and technology employment for business development purposes.
The program includes an integrated creative training, which provides participants with an opportunity to learn about methods and approaches to creativity and innovation through which each participant is allowed to develop his skills and an innovative initiative directed at community service.
By providing the participants with the opportunity to try many new things, the program also includes an opportunity to participate in a number of diverse initiatives and projects of unique societal value.
The program works on linking participants with job training opportunities for the importance of this scientific experience in enriching their real experiences and raising their competitive capabilities when entering the labor market
Conditions of application and selection criteria:
A high-level committee authorized by the Executive Council of the program selects the participants according to the following conditions and criteria:
Sudanese nationality.
Leading personality.
Leadership personality.
Good communication skills.
Good command of the English language.
Age group 18-33.
Program duration to be committed to completing the training program, which lasts for a full year.
Commitment to attend all events and activities.
To apply please click