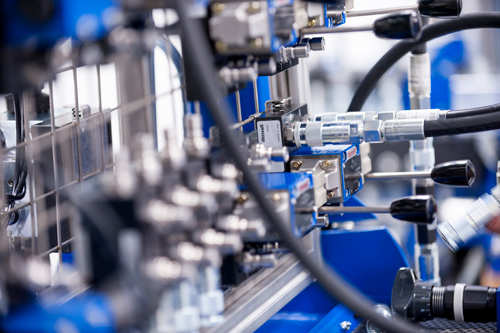 Industrial hydraulics (Rexroth)
This course is offered by BOSCH REXROTH
This hydraulic training course is designed to familiarize delegates with the construction and operation of hydraulic components.
Investigating the construction and operation of a range of hydraulic equipment, this hydraulic training course covers the fundamental principles of hydraulics as well as the individual components.
Valves controlling pressure, flow rate, sequence and direction of flow are included and practical exercises are used to demonstrate their operation, based on standard symbol circuit diagrams drawn by the delegates. Maintenance and a systematic approach to fault finding are also covered.
A strong emphasis is placed on safety and appropriate working practices throughout the course, especially during the practical sessions. Particular attention is paid to the storage of pressure with accumulators or suspended loads.
Target Group
All personnel involved with the design, assembly, maintenance, operation and servicing of hydraulic systems.
Content
SI units and conversions
Basic principles and definitions
Drawing symbols
The power pack
Pump efficiency test
Pressure limiting valves
Hydraulic cylinders
Directional control valves
Valve port labeling
Flow control, meter-in and meter-out
Counter-balance valves
Pressure compensated flow control
Sequence valves
Hydraulic motors
Motor circuits
Pressure regulation
Pilot operated valves
Accumulators
Care of hydraulic oils
Pipe sizing and installation
Maintenance
Overview of proportional hydraulics
Prerequisites
Hydraulic training can be important for all personnel involved with the design, installation, maintenance, operation and servicing of industrial hydraulic equipment and basic control systems.

A general engineering background is advised but no specific knowledge of hydraulics is needed as this will be covered within the hydraulic training course.
Training Outcomes
On completion of this hydraulic training course, participants will be able to:

Understand the principles of hydraulics
Understand the basic functions of hydraulic systems
Understand the functions of valves (flow control, pressure control, directional control)
Recognize circuit symbols and diagrams to ISO 1219
Design and construct basic hydraulic circuits
Understand safe practice
Understand the functions of power packs, pumps, filters and reservoirs
Channel link of Course: